---
Molly and Cynthia Vineyard c. 1899
Photo courtesy of Geneva Dean
---
Marilyn Vineyard and I disagree that Berry Vineyard is the brother of a William Joseph Vineyard, sons of Joseph and Cynthia Smith Vineyard. However, her opinions have been circulated among the descendants of Berry Vineyard.
My opinion is that the Joseph Vineyards took Berry to raise when his parents died. William Joseph could be his brother or a cousin. I arrived at this opinion from information passed down in John Vineyard's family that he and Berry, with other brothers and sisters, were sent to live with relatives after their father and mother died during the Civil War period.
---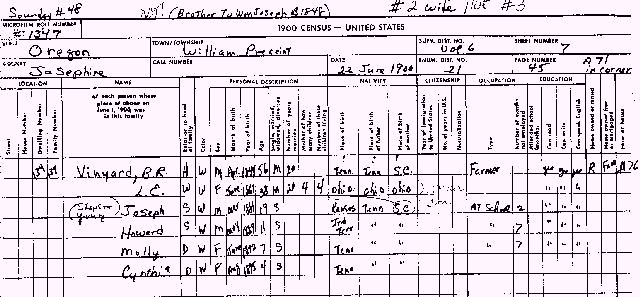 Copy courtesy of Marilyn Vineyard
---
Marilyn Vineyard was also unaware that Berry Vineyard had at least three wives, hence the notation "2nd wife". L.E. Young, also known as "Gramma Shell", was at least his 3rd wife. Allie Berry Vineyard Weaver told her daughter, Eunice, that she'd had "several" stepmothers.

Joseph is the son of L.E. Young. Howard is Benjamin Howard Guinn, son of Almeda Guinn. Molly's mother is listed as C. Thomas on her funeral record. I believe Cynthia is the daughter of either C. Thomas or Almeda Guinn and Berry Vineyard.
---
Berry Vineyard died 16 February 1902 in Coos Bay, Oregon. He was buried at the I00F Cemetary in Coos County, Oregon.
---
Molly married Nick Stambone. As you can see by the 1910 Coos County Oregon Census, Cynthia lived with them during that year.

Molly's half sister, Allie Berry Vineyard Weaver, delivered my Mother, Eunice Weaver, that year, also in Coos County. Molly's and Allie's younger children grew up together. Molly Vineyard and Nick Stambone had two daughters, before her death in 1918. Doris and Louise. Louise, a nurse, committed suicide as a young adult in the early 1940s. Doris married Stephen Chard. They lived in Coos Bay, where they raised two children, Patrick and Cathleen.
---
Nick Stambone retired as a master plumber in the mid 1940s in Grants Pass. Oregon. Doris has told the story that during a visit, when Patrick was a babe in arms, he became impatient when his Grampa left the car's gear shift pressed against him for too long during a drive. Patrick kicked it away from him, doing much damage to the transmission. Doris said Nick's rage was fearsome!

I remember Nick in his kitchen cooking up something delicious to eat. It seemed to me he began every meal with a "liddle bitta garlic an a liddle bitta damata." Often some zucchini went in, along with "budadas". I loved to watch him cook, because he talked and talked and talked, describing every step. He spoke English with a very thick Italian accent, which pleased my ears.

After his retirement, he worked as a janitor in the movie theatre, and treated my sisters and me with goodies he found on the floor when sweeping up after the movies. Sometimes loose coins, sometimes unopened boxes of candy. He also treated us to a movie..."Snow White", which lingers in my memory as a very rich experience.

Uncle Nick, as I knew him, staunchly supported FDR as president.

Uncle Nick kept track of the days of one year on a calendar bearing a picture of the Dionne Quintuplets. His tiny house was full of interesting things! And his garden bore fruit. He gave me, a second grader, quite an education.

Walter Weaver mentions Cynthia as one of the few who crossed the plains and mountains to Oregon who remained alive in 1949.
---
---
At Home with Lyndelle:/ index / back / Cast of Characters

---

At Home with Lyndelle
created 14:12 3/3/98 by Lyndelle McCoy, lyndelle@eoni.com
last modified: 23:10 01/23/2000
URL: http://lyndelle.tripod.com/vineyard.htm